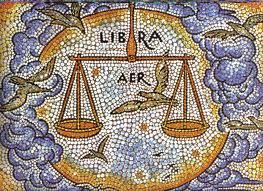 Libra – 23rd September to 24th October – Angel Zuriel
Like the sign of Libra itself, Angel Zuriel is a most quite and serene angel.  Zuriel is all about being grounded and knowing with certainty, your position in life.  There is an energy of clarity and order around this angel.  The feeling is of accord, harmony and balance. It encourages harmonious self-expression in all things.
Zuriel comes like the softest celestial being that is sweet on the inside, as well as structured in his nature. He promotes a natural order where life without chaos exists and it is Zuriel's biggest mission to transpose equilibrium, to those who wish to live this way.
Zuriel's strengths lie not only in organisation and re-organisation – there is also an underlying code of conduct establishing here.  Positive change starts with the Inner Self.
This angel helps us to Be the Change we most want to see in our world, rather than just moaning about it or criticising others – expecting them to do our work.  His language, though cooperative, is straightforward enough, so that each of us will know directly, his message for our life.
In terms of relationships Zuriel is all about balance and equality and prompts speaking up in a clear and precise way about one's needs.  He favours early report of any problems, removing the possibility of harbouring resentments and fears or playing the martyr or superior game!
Love yourself enough to be decisive and make good choices.  If you are struggling at all with that – then do call Zuriel in to help you. Often this involves acting on your gut instinct – not your second or third guess – which can often just be negative head chatter and prevarication.
Crystal & Colour Wise
The colours around this angel are rose pink, powder blue and white.  And the crystals are Rose Quartz, Kyanite and Watermelon Tourmaline.