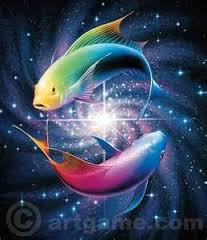 Pisces – 19th Feb – 20th March – Angel Barchiel aka Angel Barakiel
Barchiel helps us to understand and accept the polarities of human nature. Realising that even in the eternal swing from our light to our shadow self – we are always still worthy of love, life and atonement.
There are always be choices to make and the journey of life teaches us to step back from the fray and begin to develop our intention and vision, to see the bigger picture and live in unity consciousness.
Barchiel feels like a guide with a steady hand of experience and wisdom, who has seen it all, but who still knows that love and self-love is the all powerful balancer.
He works with us to stand strong and tall – warts and all – in reality and self-awareness, rather than giving in to the temptation of living behind a mask or deflecting our power with addiction.  Call on Barchiel for help to balance your life.
Crystal wise you can work with:
Smokey Quartz for cleansing and shielding from emotional extremities
Garnet for grounding & uplifting your thoughts
Obsidian for awaking your true potential and removing obstacles in your path
Green Fluorite for education and insight into how to create your future
If you need help in making steady progress – call me now on 01273 726 549 or email me at info@rosylife.com